CMGGA PROGRAMME
Our Approach
Experiential Learning Model
Outcome Focus
The programme follows an impact-driven and outcome-focused approach with each cohort. The associates work on select flagship programmes across multiple domains and also on an innovative pilot of their choice to address critical issues pertinent in their respective district. The pilots are designed to have sustained solutions with set targets and milestones. The objective of reaching maximum citizens within a limited period of time with a large scale impact remains the focus of the programme.
Field-to-forum Approach
Each cohort's tenure of one year is a mix of fieldwork in districts and classroom sessions at Ashoka University.

Field: On the job learning by working with the district administration for every 6-7 weeks, followed by 1 week-long forum

Forums: Problem-solving and skill-building through classroom sessions at Ashoka University. Special focus remains on peer learning, sharing best practices and sessions by experts.
Professional Development of Associates
Constant mentorship is ensured through
Buddy system
Weekly calls
Performance appraisals
Problem solving sessions
Skills imparting session
Guidance through CMO
Networking opportunities
KEY COMPONENTS
CMGGA Mandates
Support District Administration
Streamline execution of flagship schemes
Innovate Workable & Sustainable projects
Consolidate regular updates for the Chief Minister
Hear from our Leadership
Collaboration across boards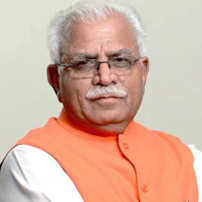 Manohar Lal Khattar,
Chief Minister
Govt. Of Haryana
CMGGA as a platform was born out of a nascent idea backed by a strong will to usher in Good Governance (Sushashan) in the state. Regular personal interactions with all the batches in the last six years has helped us gauge new ideas across various domains. As a result of these efforts, combined with consistent rigour of the departments across districts, Haryana has attained landmark milestones in e-governance, service-scheme delivery, geo-governance and the education sector. Our vision of minimum government maximum governance has been fast-tracked with the support of CMGGAs and we will continue to work for the people of Haryana with a renewed charge in the future.'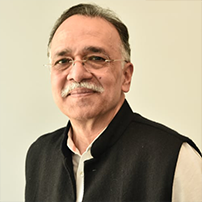 Pramath Raj Sinha,
Founder and Trustee
Ashoka University
In recent years, there is an increasing emphasis on incorporating 'experiential learning' in the country's higher education model, which Ashoka University has pioneered. The CMGGA Programme is indeed a great collaboration of academia and governance in the country to provide such a wholesome experience for students interested in the domain of public administration and social development. Our aim at Ashoka is to help associates become well-rounded individuals who can think critically about issues from multiple perspectives, communicate effectively and become leaders with a commitment to public service.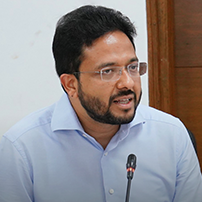 Dr. Amit Agrawal, IAS,
Programme Director
CMGGA, APSCM Chief Minister's Office
As the director of this programme, it delights me to see all the hard work put in by the CMGGAs across all batches. The unique approach of the programme in bridging the knowledge gap between young professionals and actual governance functioning has challenged CMGGAs to go beyond their comfort zones and work creatively with a dynamic thought process. We have been able to achieve many historic milestones because of the collaboration between CMGGAs and district administrations. I am positive to see more such transformations in the state in the coming times.
Our Usp
What sets us apart
Social Innovation
Sustainability and Scalability
Multi-sectoral Collaboration
Rigorous research and mentorship
Programme Team
People Behind